This page houses the entire list of items uploaded in a particular merchant. All the products of a merchant are listed on this page with their names, a brief description, their respective categories, prices, images and the date & time when they were added. There is a column with a header named 'Item Not Available'. Any product which is not available at the merchant's end can be marked as out of stock or 'Unavailable' just by clicking in the box in front of that product. There is an option on this page to upload products in bulk. That can be done using the '+ Upload Bulk CSV'.

"Duplicate Menu"
This option is used to exactly replicate the menu/product list of one merchant in another merchant. For duplicating the menu, please log in to the new merchant where you want to upload the already existing menu.
Click on "Duplicate Menu" and select the merchant whose menu you want to copy. Click on 'Duplicate'. Click on 'OK' in the alert which comes up.
To add a new product, click '+ Add New'.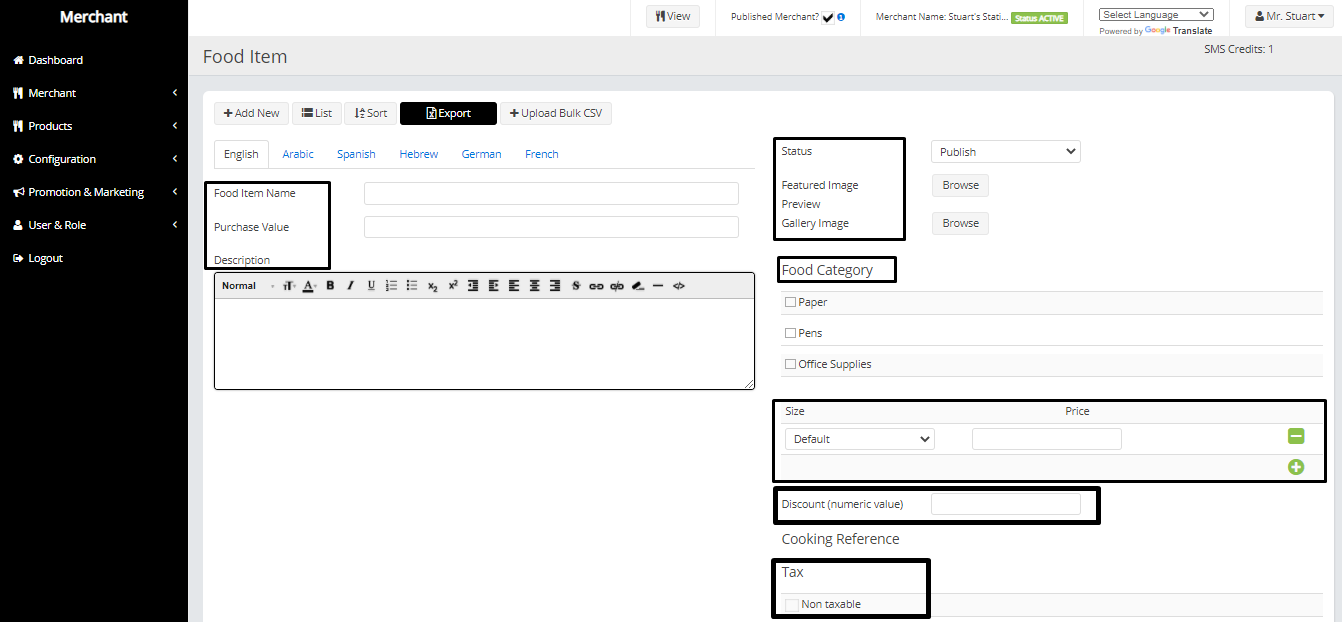 'Food Item Name' - The full name of the product being added.
'Purchase Value' - The actual price which the merchant will be charging from the platform.
'Description' - A brief description of the product being added is mentioned here.
'Status' - Choose an appropriate status for the product. 'Publish' is to make the product available on the menu, 'Pending for approval' means that the product has been created but is still not live on the menu. 'Draft' implies that the product is incomplete at the moment.
'Featured Image' - The image of the product has to be uploaded here. The 'Browse' and 'Preview' option help in uploading the image.
'Gallery Image' - If more than one image of the product is to be uploaded, in that case a Gallery image can be uploaded for the product
From the list of food categories, choose the appropriate category for the product being added.
If no 'Size' has been added, a 'Default' size is already mentioned.
'Price' - The price at which the product will be sold to the customer is mentioned here.
The '+' sign is used to add more products if a product is available in more than 1 size.
'Discount (numeric value)' - If a discount has to be given on a specific product, that discount can be mentioned here. Just enter the actual numeric value of the discount and the system will automatically calculate the discount in percentage form and display it along with the product.
'Non Taxable' - If a product is non taxable, this box must be checked.